Alma-Seelen-soul-âme-anima-jiwa-ziel-душа-jæl-sielu-lélek-duszy-
ANIMA REVOLUTION
-THE HARDEST STEP-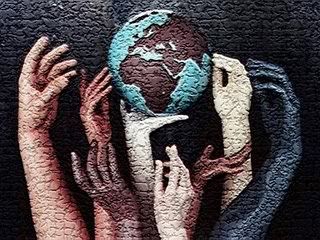 Such a few letters for such a great meaning.
¿What is the Soul, then, my friends?
What abstract object is the one which makes us free and frames us at the same time?, the one which makes us similar and unique people at once, the one which invites us to inner peace and freedom of mind and will... The Soul, my friends, the Soul is our boost!, the first spark, the framed inner bing-bang kept in our bodies, made out of bone and flesh.
‹Soul is the will,
When we first had the idea of the Anima Movement, we knew this Revolution had to be peaceful, it had to be a manifestation of our Soul; not a proof of how cruel the human being can be; had to be a boom of positive attitude and the strong will of taking action: a Non-Violent Revolution, a caress emulated by a human movement, a caress -almost lost- in these difficult times.
‹A Violent Revolution can, in some extreme circumstances, be necessary;
on the other hand, a Pacific Revolution should always
be
indispensable›.
Our Soul joins us, lead us into the same way, into the same hard obstacles, it invites us to fight back against the daily uninspiring events of our lives, against everything that keeps us out of the way… ¿Who'd want to look for a person who will take our self-confidence away?... No one!
‹Nobody intelligent would search for a person to discourage themselves;
on the contrary, they want to be constantly brightened and, in this very moment,
I try to brighten myself up while speaking to you, as you try to brighten yourself while reading me›.
I know that the Soul can be born from anywhere, just like our ideas and feelings; I want it to be born positive and brightened, animaful*… from the very heart and mind of many people, by taking action in the lives of those who believe that a change is possible.
This WON'T be my last post, for I've made the hardest step of all: the first one.
I'll see you soon, my friends.




MIGUEL